As a chef everyone has a favourite ingredient and a favourite dish. One that they're known for and one that they love making over and over again and carry with them on each and every menu over the years.
For me that has been cauliflower – cauliflower in 21 ways to be precise.
When I speak to people about my famous dish – journalists, guests, friends and even my wife – they often wonder how on Earth it's even possible. I remember my wife telling me the only way she knows how to cook cauliflower is au gratin or as a soup. Maybe the additional cauliflower crust for pizza as a gluten-free option. But 21 ways? How?!
Then I started counting her my 21 ways and funny enough, her ways of cooking were not even included. So adding them to my already 21 ways, I can easily reach 24 or 25 ways – haha.
Now as much as I would love to, I am not going to list all 21 ways – because if I do, my secret would be gone.
BUT, I will of course give away some of my ways of cooking. First, take a look at the plate.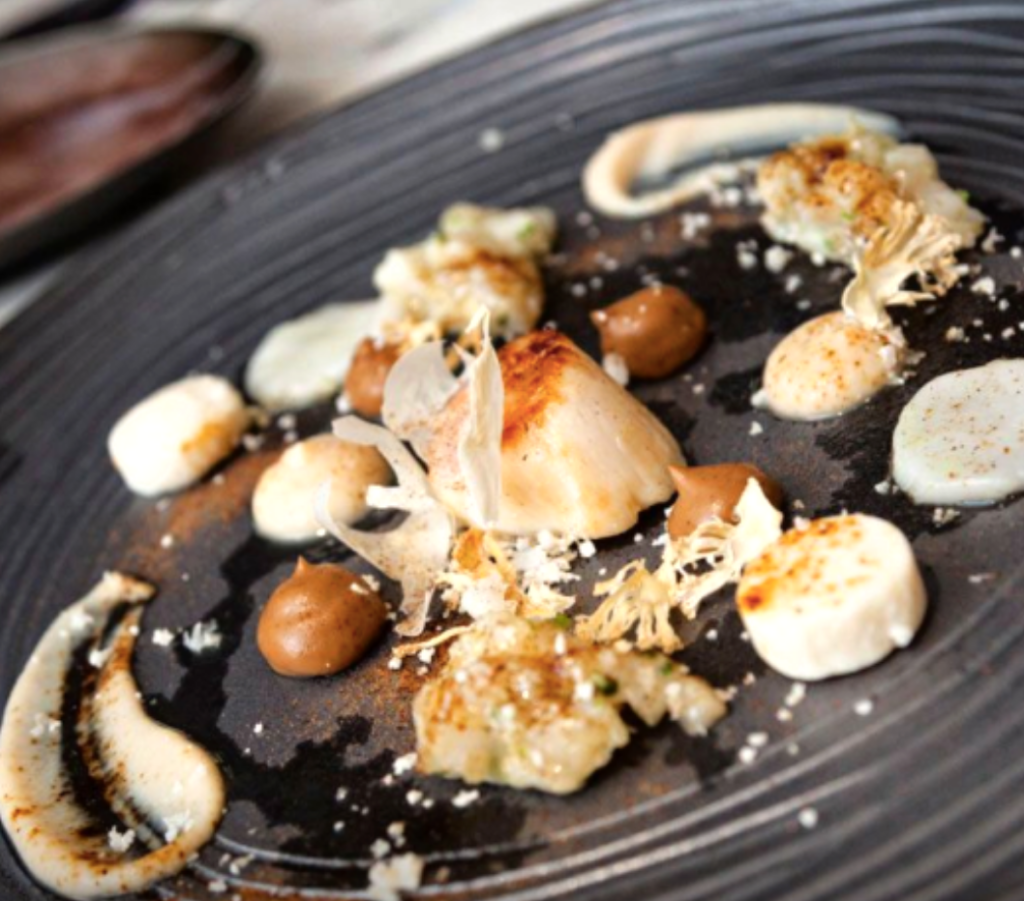 I'm sure you can already notice some of the ways its been cooked – florets, purees, powder. Right?
People think it's hard to do so many different variations, but it's really not that difficult as one step of cooking always leads to the other.
You first start with cooking the cauliflower florets in the milk. With the milk you make the skin. Then you can make your purees – think all the colors you can make here too. Then you can make panna cotta or milk gel – all the goodness you can make with milk.
Then you can make something we chef's love to do – an oil out of cauliflower.
If you dry the cauliflower, you can make powders or chips out of it.
But what I really, really love is making a sorbet. I like to think outside of the box and not just create fruity flavors when I make a sorbet, but I like to surprise by also using vegetables. You will be surprised by its taste and especially how refreshing it is.
Last, but not least, I'll give you one more tip. If I count all 21 ways, then I can pack my things and stop doing what I do – that's why I will name just a few. The rest you can think of yourself maybe or mail me what you think all 21 ways are 😉
Can you guess it? We've covered sweet and savory, let's move on to sour. Cauliflower pickles! If you pickle your cauliflower florets, it adds to the mix perfectly with its sourness.
These are some of the various ways how you can cook or prepare your cauliflower. Of course other vegetables are very versatile too, but I always found that cauliflower is such an undervalued vegetable, which can bring out so many flavors and textures.
If you were to pick a vegetable and cook it in many different ways – what would it be?